Things to Do in Southern California near Calipatria Inn
From migratory birds at the Sonny Bono Wildlife Refuge to air shows at the Naval Air Facility El Centro, there is much to see and do in Southern California's Imperial Valley.
Off Roading on the Glamis Sand Dunes

Part of the Algodones Dunes or the Imperial Sand Dunes Recreation Area, Glamis Sand Dunes are an amazing stretch of landscape. Those who love off-road vehicles, or dune buggies, work hard to use the dunes and keep harmony with the wildlife that uses it too.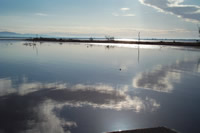 Bird watching at the Sonny Bono Wildlife Refuge
The Sonny Bono Refuge, named in honor of one of America's beloved entertainers as well as United State congressman, is part of the Salton Sea. It's managed by the U.S. Fish and Wildlife Service, and visited by over 375 species of migrating birds each year. Located just a short drive away from the Refuge, Calipatria Inn and Suites offers visitors a comfortable resting place while spending a day or two watching the waterfowl. The hotel's 41 guestrooms are all appointed with luxurious amenities, and guests also will enjoy the sparkling outdoor swimming pool and spa, onsite Desert Coyote Grill restaurant, and complimentary continental breakfast.
Known as Boley Field or IPL, Imperial County Airport serves a commercial airline, United or SkyWest, as well as private flyers. For the latest information.
Part of the Imperial Community College District, Imperial College serves the population of Imperial County. Students can take classes in a variety of disciplines, from American Sign Language to Welding.
Ocotillo Wells
Made up of over 80,000 acres, Ocotillo Wells State Vehicular Recreation Area is on off-road-vehicle enthusiast's dream come true. Camping, picnicking, and of course, riding, are available through this desert setting.
Anza Borrego Desert State Park is named for two significant contributors to California's history: the Borrego, or bighorn sheep, and the Spanish explorer, Juan Bautista de Anza. Next to beautiful cactus flowers and palm groves, visitors may get a chance to see Wile E. Coyote's nemesis-the roadrunner.
Part of the Bureau of Land Management, Yuma Pilot Knob has been a military training ground, perhaps most notably for General Patton during World War II. An isolated camping spot for long-term campers, those who stay in the desert must be well prepared for their stay.

Visiting Picacho State Recreation Area can truly be a "roughing it" experience-part of the road there is dirt and prone to flash floods in summer. Wild burros, migrating birds, and bighorn sheep call this desert landscape home.
Naval Air Facility El Centro

Ever wondered where the movie Top Gun was filmed? The naval Air Facility El Centro is a military airport where pilots get to practice their skills and perfect new ones. The famous Blue Angels kick off their show tours here each year.
Salvation Mountain
A work of art as well as a piece of worship, Salvation Mountain in Niland, California, is one man's way of showing his love for a higher power. Depictions of birds, waterfalls, trees, flowers, as well as Bible scripture make up this unique work of "outsider" art.